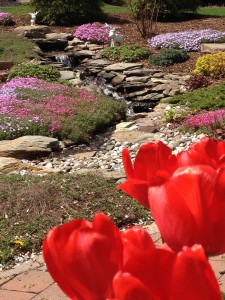 Meadow View Gardens, located in York PA, provides a wide range of professional landscaping services to York, Adams County, and South Central Pennsylvania. We are a full service landscaping contractor serving the Hanover, Harrisburg, Gettysburg, Lancaster and York areas.
Meadow View Gardens strives to completely  satisfy our customers by providing a large variety of services. Put our staff of trained professionals to work for you to produce and maintain an aesthetically pleasing landscape that combines natural beauty with functional design.
Landscaping Services Offered by Meadow View Gardens
Pond design, pond installation, pondless waterfall installation, fountains, specialty water features, landscape design, landscape installation, paver design, paver installation, wall design, wall installation, lighting design, lighting installation, mulching, pruning, landscape clean up. Contact us with your landscaping requests or call 717-578-9029 to discuss your landscaping needs.
Let Meadow View Gardens Design Your Landscape Vision
At Meadow View Gardens, we commit ourselves to providing you with an outstanding landscape, from the drawing table to the actual planting. Our experienced landscapers specialize in quality landscape design and waterscape installations that will enhance the beauty and tranquility of your home.
When carefully planned, your landscape will enhance the beauty of your home, increasing its value. To ensure your satisfaction, Meadow View Gardens will see you through every step of the landscaping process including installation of plant material.
Your Satisfaction Is Important to Us
All of our trees, shrubs and perennials have a two year warranty. In order to keep your plants healthy and full of vigor, Meadow View Gardens provides you with instructions on how to take care of your new investment.
We want you to enjoy your landscape for many years to come!
Contact us for more information. 717-578-9029. 2049 Poplars Rd,
York PA 17408.